Document Modules
---
The Documents module provides a convenient way to store and share documents. Similar to a public file folder on a network, use the module to organize and discover documents.
Open the desired folio and select
Documents
from the
Browse
area or the folio navigation to view the module. Folio navigation displays the modules at the top of the folio.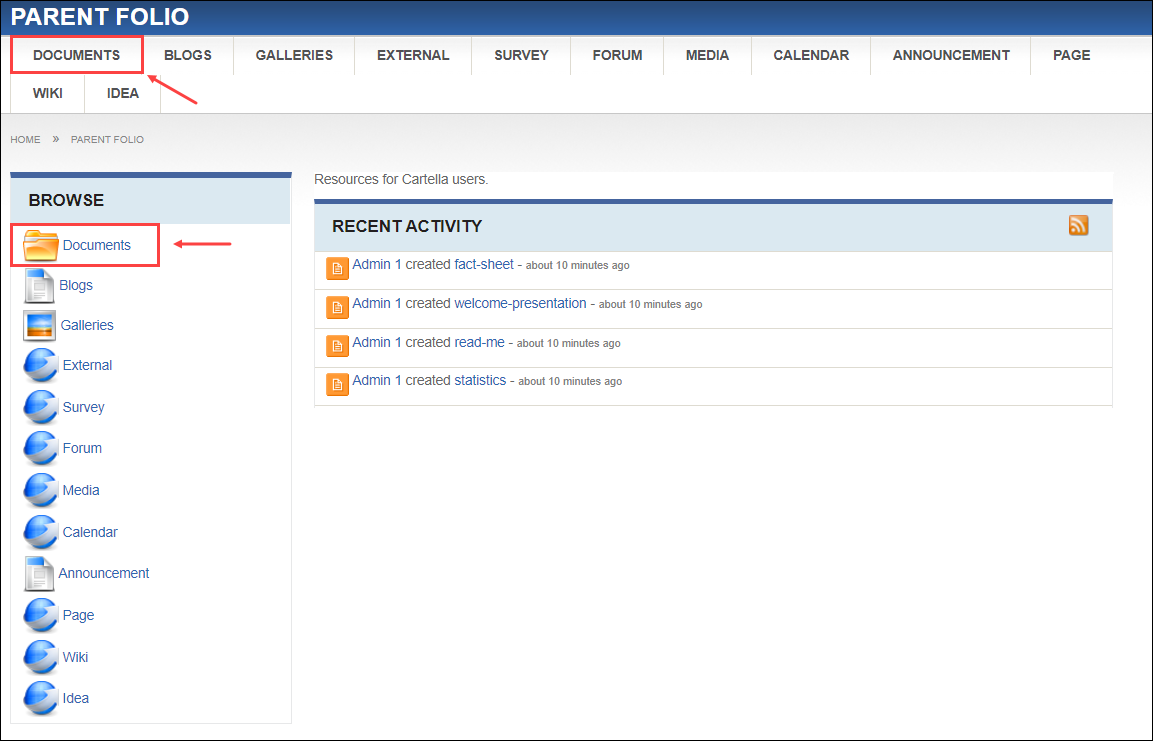 Documents Module View
The module view displays documents based on folder location or associated categories via the View By area.
The Folder tab displays the folder structure and the Categories tab displays categories associated with documents.
Plus (
+
) buttons display next to folders that contain sub-folders (i.e., children). Click the plus (
+
) button to expand the folder.
The table displays information about each document.
Data types include:
Column Header
Description

Name

Name of the item.

Click the name to go to the item.

Sort the table by name in ascending or descending order.

Download
Access point to download the item.

Click the icon to download the current version of the item.

Versions
Total versions available for download in the item's version history.
Comments
Total comments on the item.

Created By

User that created the item.

Click the name to go to the user.

Sort the table by creation date in ascending or descending order.

Created
Date of item creation.
Last Updated
Date the item was last saved.
Actions menu (e.g., Manage, Edit, Delete)
Actions the creator or moderator can use within the item (i.e., item actions area).

Manage

only displays to site administrators and folio administrators.
Click the
RSS Feed
icon to display the folder RSS Feed.

Document Item View
If you click a specific document in the table, the content item's view displays. Users can download current and previous versions of the document, view associated categories in the Posted In field, and post comments via the XHTML editor.
The item creator can edit or delete the item, and folio administrators and moderators can manage the item.