Editing Your Profile
---
The Edit your Profile dialog provides options to edit your personal information, Dashboard preferences, and advanced settings.
Version Notes: CMS 10.0.–10.3 vs CMS 10.5+
In CMS 10.0–10.3, the
Edit your Profile
dialog options display within a single view.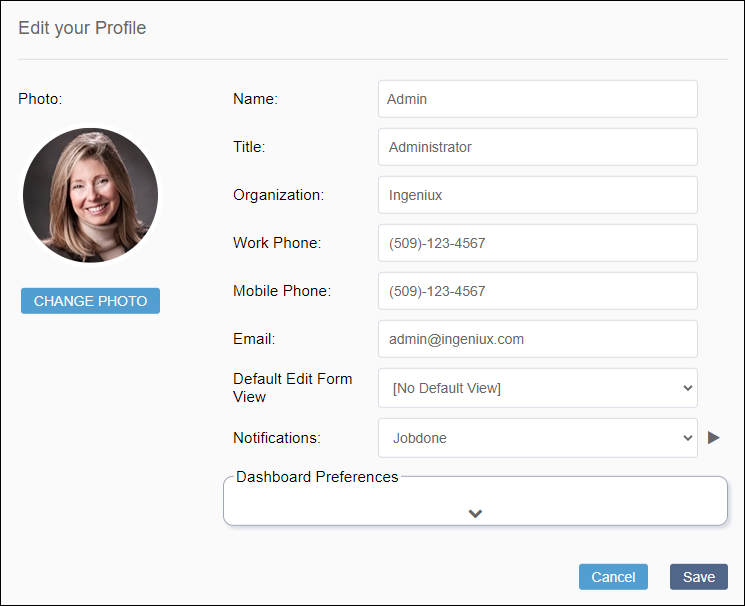 In CMS 10.5, the Edit your Profile dialog options display within the Personal, Dashboard, and Advanced tabs.
Personal
Your name, title, organization, and contact information display on your public profile. This information is visible to other CMS users.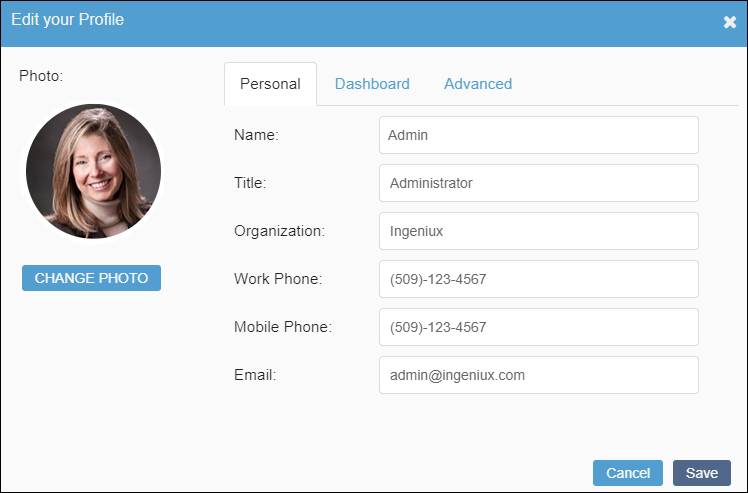 Personal information fields include:
Name

: Your profile name (not user ID) identifies you within Ingeniux CMS. This name displays in your user profile, workflows, and dashboard.

Title

: Your position title in the organization.

Organization

: Your organization's title.

Work Phone

: Your work phone number.

Mobile Phone

: Your personal phone number.

Email

: Your CMS account is associated with this email. The CMS sends notifications to this email.

Ensure your email address is accurate before saving.
Dashboard
The Dashboard tab controls which features display in the Dashboard.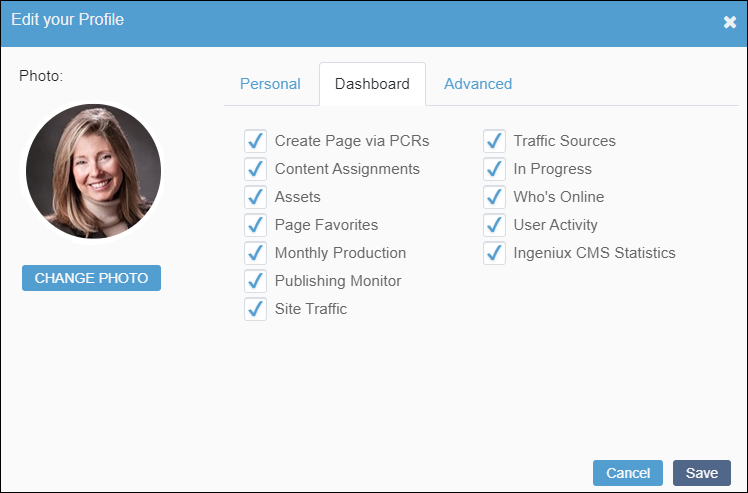 Dashboard features include:
Create Page via PCRs

Content Assignments

Assets

Page Favorites

Monthly Production

Publishing Monitor

Site Traffic

Traffic Sources

In Progress

Who's Online

User Activity

Ingeniux CMS Statistics
See Dashboard for details about these features.
Advanced
The Advanced tab controls display and sound settings for Ingeniux CMS.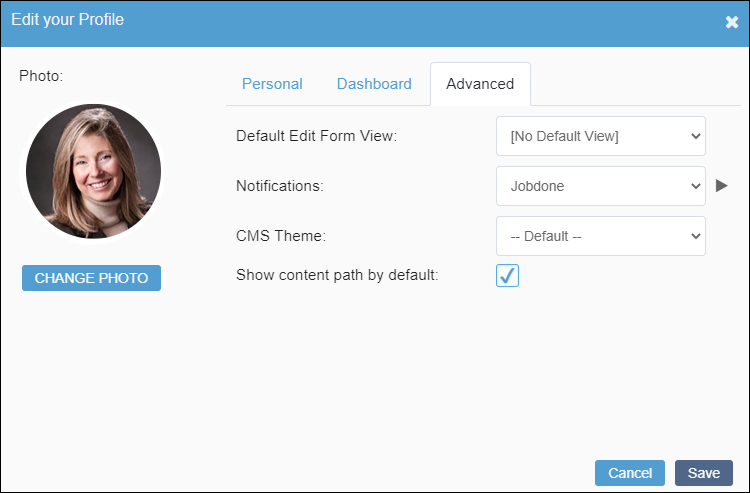 Advanced settings include:
Default Edit Form View

: Set the default

Edit

tab view for Site Tree pages and components. Options include:

[No Default View]
Index View
Form View
In-Context Edit View

Notifications

: Set a sound notification. If the Dashboard refreshes or you log in, the saved sound notification occurs.

CMS Theme

: Change the color theme of your CMS user interface. Select one of the available theme options in the drop-down list.

Show content path by default

: Display the Site Tree or Asset Tree content item's full path by default. This checkbox is cleared by default.
To edit your profile:
Choose one of the following steps:

Click the drop-down arrow in the top-right corner of the CMS.

Hover over your profile photo in the

Dashboard

.

Click

Edit your Profile

. The profile view opens.

Select the

Personal

tab. Enter your information.
Select the

Dashboard

tab. Select or clear your Dashboard display preferences.
Select the

Advanced

tab. Configure your Advanced settings.

Click the play icon next to the

Notifications

drop-down list to hear the selected notification sound.

Click

Save

when finished.

If you want to change your profile photo, save your changes up to this point. See

Change Profile Photo

for details.