WorldView Workflows
---
After enabling and configuring WorldView, the next step is to set up translation workflows. The exact workflows you use vary from site to site, but most sites have at least two workflows for translation: a master-page workflow and a clone-page workflow. To meet this need, Ingeniux CMS comes with two prebuilt translation workflows: Master Page Workflow for Translation and Clone Page Workflow for Translation. This section contains examples of what these workflows might look like.
See Activating WorldView Translation Workflows for details to display generate the translation workflows in Workflows Designer. See Translating Site Content with WorldView for details about translation.
In the workflow view, you can create workstates and transitions. For translation projects, possible workstates may include:
Incomplete
Complete
Ready for Translation
Translating
Translation Project Complete
Proofreading
The Master Page Workflow for Translation displays the following workstates and transitions: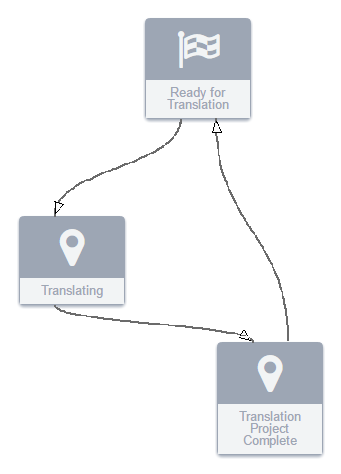 A simple translation workflow might look something like this. In this workflow, content items are sent to be translated and then transition to the Translation Project Complete workstate. If content items need revision or another translation, they can be sent back to the initial Ready for Translation workstate.
The Clone Page Workflow for Translation displays the following workstates and transitions: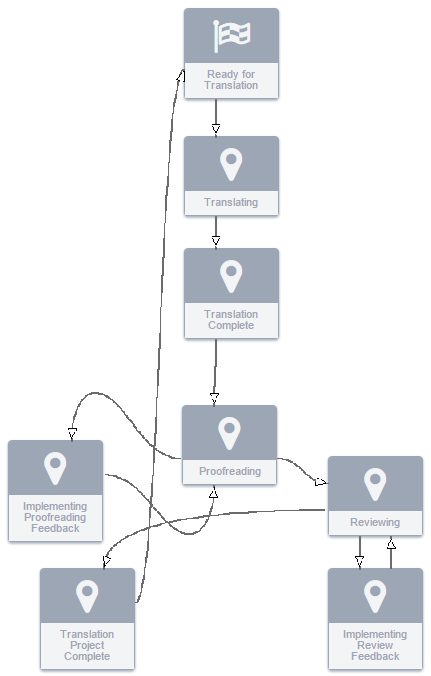 A more complex workflow might look like this. This workflow has several workstates, including proofreading, reviewing, and sending feedback. The specific workflows you use for translation projects depends on time and resources. Carefully consider these variables when planning how content items move through workflows in WorldView implementations.